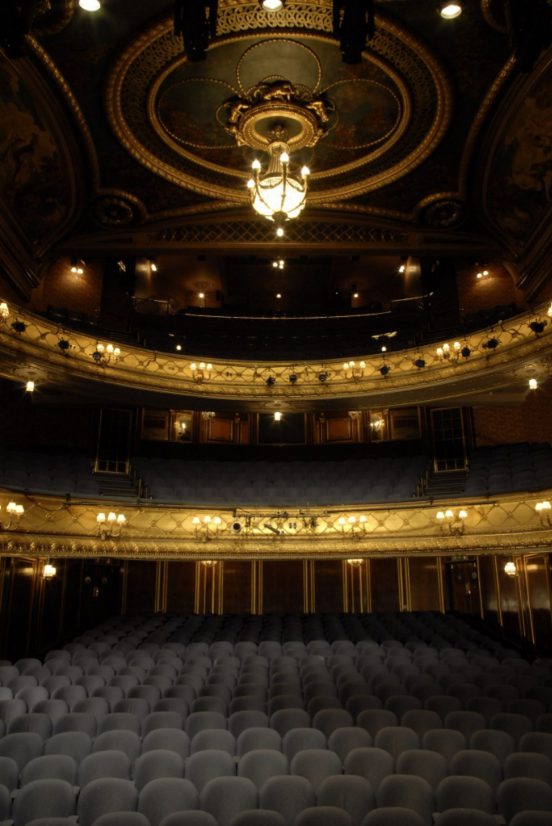 The Theatre Royal Haymarket, known originally as 'The Little Theatre in the Hay', is a Grade I listed building situated in the heart of the West End. Designed and constructed by John Potter in 1720 it is one of Britain's most treasured theatres.
Circa 1820, all the buildings on the east of the Haymarket from the theatre southward were rebuilt in connection with John Nash's schemes for the improvement of the neighbourhood. Nash persuaded the proprietors of the theatre to rebuild on a site a little south of the old one so that the portico should close the vista from Charles Street. The theatre seats 893 patrons and is the third oldest London Playhouse still in use.
Today the Haymarket strives to produce memorable theatrical experiences for audiences from around the world. Theatre Royal Haymarket Productions was set up in 2007 and has since produced some of the theatre's most successful productions including Waiting for Godot and Flare Path. The seasons, led by artistic directors, Jonathan Kent, Sean Mathias and Sir Trevor Nunn, has seen performances from Sir Ian McKellen, Dame Eileen Atkins, Sir Patrick Stewart, Sienna Millar, Sheridan Smith, Ralph Fiennes, Joanna Lumley and Robert Lindsay to name but a few.
Encouraging the next generation of theatre makers has been paramount to the continued expansion of the Haymarket and in 1998 the theatre's Chairman, Arnold M. Crook, set up The Theatre Royal Haymarket Masterclass Trust to offer young people exceptional creative opportunities and experiences with leaders of the theatre industry. Masterclass has broadened it spectrum in the past year with the introduction of the Bravo 22 Company, a project that used theatre as a tool to aid rehabilitation for wounded, injured and sick service men and women, culminating in the play The Two Worlds of Charlie F. After two sell out shows in January 2012, The Two Worlds of Charlie F. secured funding for a tour of the country and went on to win the Amnesty International Freedom of Expression Award 2012. It is a project we are immensely proud of. Visit the Masterclass website to find out what's coming up next.
The Haymarket is delighted to offer exclusive hospitality packages in the beautiful Oscar Wilde Room and Royal Receiving Room, to book a pre-theatre champagne reception or find out what other bespoke events we can accommodate visit the hospitality page.
In 2018, Access Entertainment became the proud new owners of the Haymarket with the ambition to continue the theatre's rich tradition of creative excellence and support for both the world's greatest theatrical names and emerging and diverse new talent.
Keep up with all our latest news by following us on Facebook or Twitter