17th March 2019
Gosh! It's Dame Judi Dench in conversation with Gyles Brandreth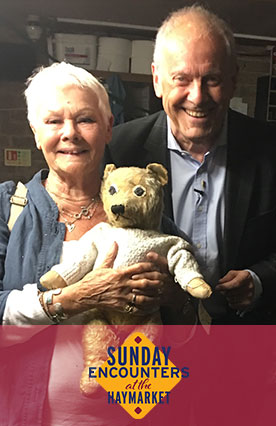 Age Limit 10+
For your comfort and security, you may be subject to additional checks on your visit to London theatres.
We appreciate your patience and understanding while these are taking place.
In Aid of Great Ormond Street Hospital.
Author, broadcaster, One Show reporter, Just A Minute regular, and editor of the Oxford Book of Theatrical Anecdotes, Gyles Brandreth, invites the legendary actress, Dame Judi Dench CH, to join him on stage at the Theatre Royal Haymarket, to talk about her extraordinary life and career.
From her childhood in York to her role as M in the Bond movies, from playing Ophelia and Juliet at the Old Vic sixty years ago to playing Mrs Shakespeare in Kenneth Branagh's latest film this year, Gyles takes Judi on a roller-coaster ride through a unique life with amazing stories of her times with everyone from John Gielgud and Ian McKellen to Billy Connolly and Johnny Depp. 'Hilarious', 'moving', 'spell-binding' was how the show was described when Gyles and Judi were last on stage 'in conversation'.
This very special event – in aid of the Great Ormond Street Hospital GOSH Appeal – is a not-to-be-missed opportunity to see our most-loved actress in person. Laughter and tears guaranteed. And moments from Shakespeare, too.
Presented by Fane Productions as part of the 'Sunday Encounters at the Haymarket' season.
Box Office & Prices
NO BOOKING FEE 
Stalls - £65
Royal Circle - £65, £45**
Upper Circle - £35, £35*, £15** (**Call us on 020 7930 8800 to buy these)
Gallery - £25***
Premium Stalls & Royal Circle - £100
A restoration levy of £1.50 is included in these prices.
Please note there are 65 steps to the Upper Circle & Gallery.
*Limited View
** Restricted View – only available to buy in person or by phone 020 7930 8800
*** Patrons in the Gallery should be aware that seating is on cushioned wooden benches
General Information
Access
Patrons requiring access into the theatre, wheelchair spaces and the Access rate please contact the box office on 020 7930 8800. Monday to Saturday 10am to 7.30pm
General Information
No exchange or refund on purchased tickets.
All prices subject to availability. 
Book By Phone 020 7930 8800
Mon-Sat 10am-7.45pm calls to this number are answered by the Theatre directly.
If you would like to use SOLT Theatre Tokens as payment/part payment please either call us on 020 7930 8800 (10am-7.30pm Mon-Sat) or just pop in.
In person: Monday to Saturday 10am-7.30pm. Bookings for future dates stop at 6.30pm.
Theatre Royal Haymarket, Haymarket, London SW1Y 4HT
We accept Visa and MasterCard