10th March 2019
Patti LuPone in Conversation with Edward Seckerson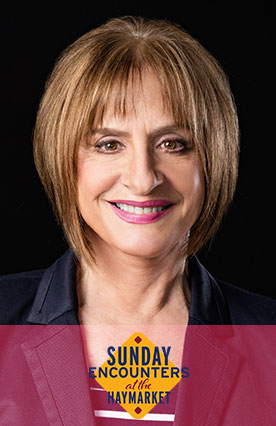 Age Limit 10+
For your comfort and security, you may be subject to additional checks on your visit to London theatres.
We appreciate your patience and understanding while these are taking place.
From her auspicious beginnings with John Houseman's The Acting Company to the overnight sensation of her Evita on Broadway, from the birth of Les Miserables to her unforgettable, Tony Award-winning, portrayal of Mama Rose in Gypsy, LuPone is a shining example of what a real Broadway star is.
She's currently wowing London audiences once more in Marianne Elliott's much-acclaimed gender-reversed revival of Sondheim and Furth's Company and this intimate evening promises insights, stories and a few treasured recordings.
Presented by Fane Productions as part of the 'Sunday Encounters at the Haymarket' season.
Box Office
NO BOOKING FEE                                                                                                    
Stalls - £65, £49.50
Royal Circle - £65, £49.50, £45**
Upper Circle - £35, £35*, £15**
Gallery - £20***
Premium Stalls & Royal Circle - £75
A restoration levy of £1.50 is included in these prices.
Please note there are 65 steps to the Upper Circle & Gallery.
*Limited View
** Restricted View – only available to buy in person
*** Patrons in the Gallery should be aware that seating is on cushioned wooden benches
General Information
Access
Patrons requiring access into the theatre, wheelchair spaces and the Access rate please contact the box office on 020 7930 8800. Monday to Saturday 10am to 7.30pm
General Information
No exchange or refund on purchased tickets.
Book By Phone 020 7930 8800 – 24 hours
Mon-Sat 10am-7.45pm calls to this number are answered by the Theatre directly.
If you would like to use SOLT Theatre Tokens as payment/part payment please either call us on 020 7930 8800 (10am-7.30pm Mon-Sat) or just pop in.
In person: Monday to Saturday 10am-7.30pm. Bookings for future dates stop at 6.30pm.
Theatre Royal Haymarket, Haymarket, London SW1Y 4HT
We accept Visa and MasterCard