Now booking until 27th June 2020
Only Fools and Horses The Musical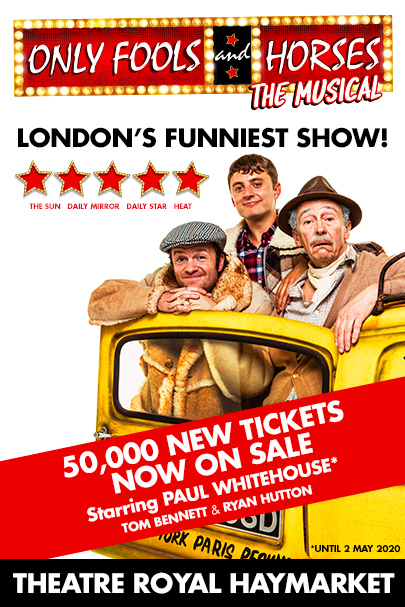 All customers – CLICK HERE to see our Coronavirus Update page for schedule information and what to do if you have tickets for a future performance – and amended Box Office opening hours
Age Limit 8+
Advertised casting is subject to change due to cast holidays, illness and unforeseen circumstances. The Management reserves the right to change casting at any time.
Mais ouis, mais ouis, the world may have changed a lot...
Mais ouis, mais ouis, the world may have changed a lot since we first bid a jovial 'au revoir' to the Trotters of Peckham, but good 'ol Del Boy, Rodney and the rest of the gang haven't changed a bit… well, apart from the odd spontaneous bursting into song here, and the occasional dancing across the market, there.

The landmark, record-breaking and top-rated television series Only Fools and Horses, written by the late, great John Sullivan, undoubtedly holds a special place in the hearts of the British public. Now John's son Jim Sullivan has teamed up with comedy giant Paul Whitehouse to write and produce a script and score to honour his father's legacy; recreating the iconic series into a brand-new, home-grown British Musical spectacular. Lovely Jubbly!

Tom Bennett (Del Boy) and Ryan Hutton (Rodney) and Paul Whitehouse (Grandad) take centre stage in this unique showstopper.  Featuring cherished material from the TV series, the laughs, dodgy dealings and unforgettable moments to boot, join us as we take a trip back to 1989, get reacquainted with Britain's most loveable rogues and experience the classic comedy brought to life once again through an ingenious and hilarious original score; an idea so inexplicably pukka it surely proves the old adage that he who dares wins!

With musical contributions from Chas n Dave, the beloved theme tunes as you've never heard them before and an array of comic songs full of character and cockney charm, you're guaranteed to have a right knees-up!  Only Fools and Horses the Musical is a feel-good, family celebration of traditional, working class London life and the aspirations we all share.

Written by Paul Whitehouse and Jim Sullivan, fully endorsed by the Sullivan estate Sound CUSHTY?  Then book your tickets today – Only a forty-two carat PLONKER would miss it! Book, Lyrics and Original Music by Paul Whitehouse & Jim Sullivan Based on the programme 'Only Fools And Horses' written by John Sullivan Additional music by John Sullivan & Chas Hodges Directed by Caroline Jay Ranger Paul Whitehouse appears as Grandad until 2nd May
All customers – please see our Coronavirus Update page for schedule information and what to do if you have tickets for a future performance – and amended Box Office opening hours
Many thanks for your patience and understanding.
The Team at TRH
More information on future performances and amended Box Office opening hours here
Paul Whitehouse appears as Grandad until 2nd May
Monday 7.30pm
Tuesday 7.30pm
Wednesday 2.30pm & 7.30pm
Thursday 7.30pm
Friday 7.30pm
Saturday 2.30pm & 7.30pm
Box Office
BOX OFFICE OPENING HOURS
With the current situation our phone room and box office are both closed in order to ensure the safety of our staff and patrons.
By Phone: call 020 7930 8800
Mon-Sat 10am-7.45pm calls to this number are answered by the Theatre directly.
If you would like to use SOLT Theatre Tokens as payment/part payment please either call us on 020 7930 8800 (10am-7.30pm Mon-Sat) or just pop in.
In person: Monday to Saturday 10am-7.30pm. Bookings for future dates stop at 6.30pm.
Theatre Royal Haymarket, Haymarket, London SW1Y 4HT
We accept Visa and MasterCard
VIP Oscar Wilde Room
From £137.50 Monday to Thursday and from £147.50 Friday & Saturday
This includes a Stalls ticket and use of the exclusive Oscar Wilde Room from 30 minutes before the show and during the interval, an open bar (including Champagne) and a programme for the show.
You can book the VIP Oscar Wilde Room Tickets via the online booking system – just book as normal and select Stalls seats in row M that are light blue, or just call 020 7930 8800.
The Oscar Wilde Room is accessed via a staircase so may not suitable for patrons with mobility issues.
Access
Patrons requiring access into the theatre, wheelchair spaces and the Access rate please contact the box office on 020 7930 8800. Monday to Saturday 10am to 7.30pm
General Information
No exchange or refund on purchased tickets.
All prices subject to availability.
Prices - Booking until 27th June 2020
Monday to Thursday
Stalls- from £77.50, £67.50
Royal- from £77.50, £67.50, £35*
Upper Circle- £50, £35, £25*, £15**
Gallery- £20***
Boxes (2 seats)**- from £77.50, £67.50 per ticket
Day Seats
A limited amount of tickets will be available at £25 and £10 on the day of the performance – released at 11am. These could be single seats.
Available on selected performances, subject to availability – book online via this website or via Ticketmaster
Group Rate 27th April – 27th June 2020
Monday, Tuesday & Wednesday Evenings.
Minimum 15 tickets
£77.50 reduced to £55 per ticket
£67.50 reduced to £45 per ticket
Please call 020 7930 8800 to book your Group Rate
Friday and Saturday
Stalls- from £87.50 (£90 10th Feb onwards), £77.50
Royal Circle- from £87.50 (£90 10th Feb onwards), £77.50, £35*
Upper Circle- £50, £40, £25*, £15**
Gallery- £20***
Boxes (2 seats)**- from £87.50, £77.50 per ticket
A restoration levy of £1.50 is included in these prices.
Please note there are 65 steps to the Upper Circle & Gallery.
*Limited View
** Restricted View
*** Patrons in the Gallery should be aware that seating is on cushioned wooden benches
More Information
For your comfort and security, you may be subject to additional checks on your visit to London theatres – we appreciate your patience and understanding while these are taking place.
Paul Whitehouse appears as Grandad until 2nd May 2020
'One Del of a show!'

The Sun

'Viva, Hooky Street. C'est magnifique! A treat for Trotter fans'

Daily Mirror

'This loving, lively homage is an unashamedly British night out. A jubilant lovely jubbly!'

Evening Standard

'Raise a glass of Tittinger to Del Boy and Rodney as Only Fools and Horses storms the West End!'

Daily Mail

'Call it comfort food for our troubled times, this show serves up some lovely jubbly!'

Metro